ABOUT US
OUR VISION
We aim to provide free, fun, social running in the heart of Cardiff.
WHO WE ARE
CDF Runners meet every week to offer various running sessions and distances at every pace.
We are a social running club based in the centre of Cardiff.
We have Welsh Athletics qualified coaches and running leaders who make sure our training sessions work for everyone whether you're running your first 5k or pushing for a new PB.
CDF Runners is many things to many people. For some, we are somewhere to drop in and out of when their schedule allows for a no strings attached run with friendly people. For others, it shapes their whole week and they dedicate themselves to running every session. Some CDF Runners do not even attend our 'official' sessions, but proudly wear their t-shirts and vests at races and parkruns across the world.
We want to be a safe, welcoming place for new runners to approach and run with a group for the first time. We were all new once and many of us imagined running clubs to be a bit intimidating. Many years later, we can't imagine running any other way!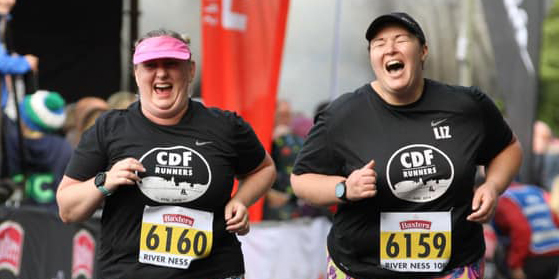 Although we are now a club affiliated with Welsh Athletics, our regular sessions are free and always will be to members and non-members alike. Individual affiliation to Welsh Athletics through CDF Runners is optional and does come with a cost. While we will outline the benefits of individual affiliation, we have no expectations of new or occasional runners and we understand that this is not an inevitability for everyone.
We believe in working with our local running clubs and communities to increase participation for as many people as possible, and where CDF Runners isn't the best fit, we will happily recommend other clubs and social running groups that may work better for that individual.