CDF Runners are delighted to announce a new Couch to 5k programme starting in February 2018.
After a successful programme in Spring 2016, we're really glad to be able to offer the opportunity to more budding runners. All four graduates continued to run with us, and two of them have taken on the mantle of running our next Couch to 5k.
This will run from February 5th – April 7th 2018. You will not need to run every session with us, but from experience, we recommend that you try to keep to the routine and use the group to help you complete every run.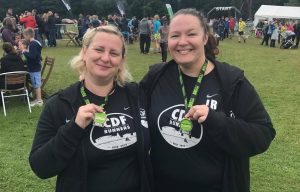 Liz and Ruth have become enthusiastic runners and familiar faces within the club, and they're now looking forward to passing on all they've learnt to new runners. They'll be joined by Amy to form the core of the support team for the C25K runners, and they will be joined as needed by a host of other willing volunteers over the 9 week process.
We will be following the full NHS endorsed Couch to 5k programme which requires three sessions a week and builds up running at a steady rate.
If you're interested in signing up, please visit our dedicated Facebook page, or email us. There's no obligation at this stage and we'd be very happy to answer any of your questions.