How long have you been running? I did a Santa Run around Liverpool when I was about 9 and have been sucked into this madness ever since.
Do you have a favourite race? Cardiff Half. Ever since I was at university, I've loved the hungover students being baffled about what's going on around them.
Do you have a favourite distance to run? Surprisingly, it used to be cross country! Now, the shorter the (much, much better). Usually 400m or less. I'll settle for a 5K. Don't ask about the state I tend to be in after races.
What's your greatest achievement? Breaking 1:30 at the Cardiff Half last year for the first time. It felt like a huge mental block that had been so frustrating to get past.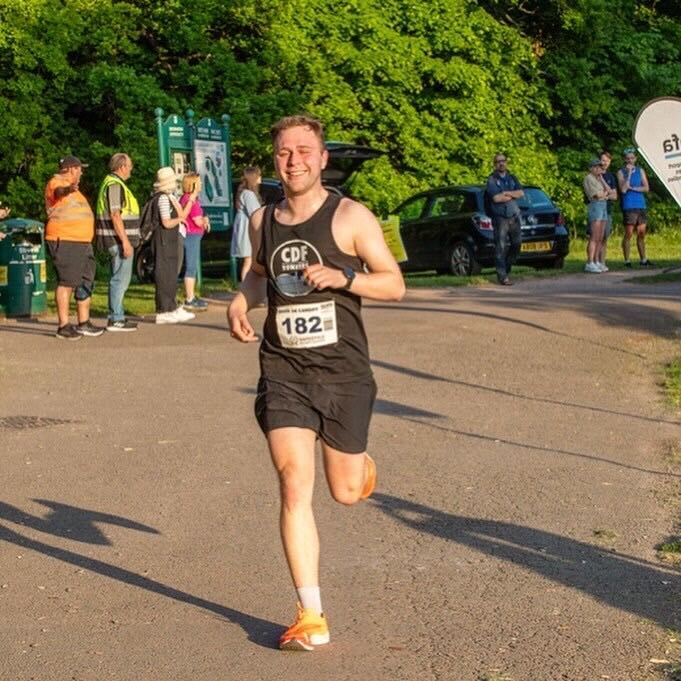 TW: discussion of mental health.
Running has been a strange experience for me. It's been both the bane of my life and the thing that's kept me going through some of the most difficult parts. I remember picking it up at school not long after my mum did her fifth London Marathon and loving the chaos of cross country. I used to compete all around the South West, before moving across to track.
We didn't have a proper track at my school, but we did have white paint in a loop on a very lumpy field in the middle of Dorset. I was often the only one interested, so I used to run with my coach standing at one end with a stopwatch. I qualified for county 800m, and after a brief stint taking it seriously, I realised I wasn't as quick as I had hoped. I decided rugby looked fun. For a few years I ended up playing as a winger with a 12 second 100m time with absolutely no ball skills. After utter carnage and a lot of frustration from my teammates, I took a break, only running with my dog (an all-white border collie called Will) when I could.
The break from sport coincided with a difficult journey with my mental health that's led me to doing what I do today, working for Mind, the mental health charity. One evening I remember having what I later realised was a panic attack. I ran out the house and started running around the field next door, where we would walk our dog. My mum came with me and we jogged until I felt the anxiety subside. I dropped out of school and remember running being the furthest thing from my mind until I came to Cardiff for university in 2015.
I started jogging, and was amazed how much I had missed it. On a whim in 2016 I signed up for the Cardiff Half Marathon, and despite being terrified, managed to run it in around 1:45, which I was over the moon with. This became a yearly habit that was never serious, including this wonderful photo that looks like a Renaissance painting.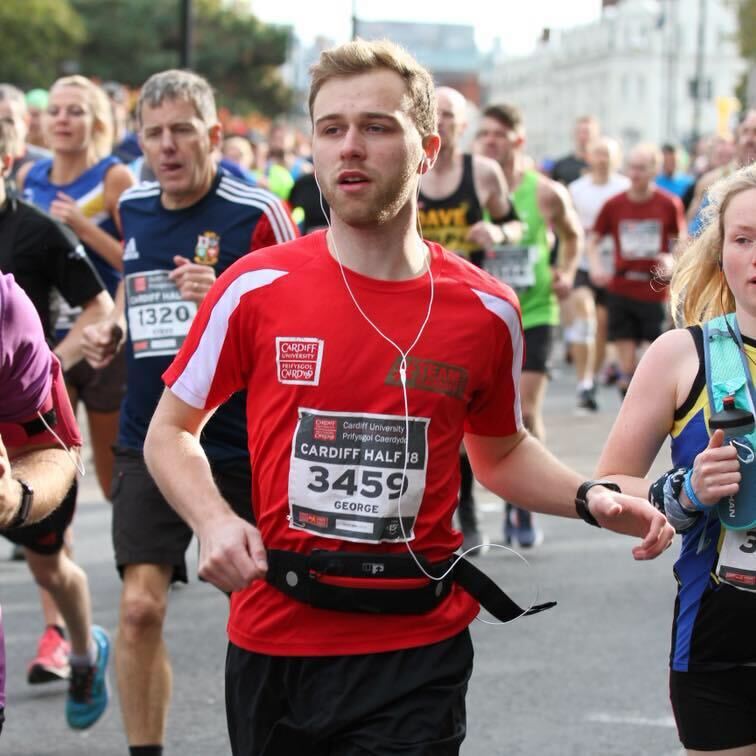 But after a particularly difficult time of it with my head, I took a break again. It's difficult to talk about, but I had a brief period of feeling suicidal. I managed to get help and used that energy to run for Cardiff University's mental health research services and Samaritans, also signing up to support the National Centre for Mental Health. I felt like I'd found a purpose. And running was the obvious thing to help me get better.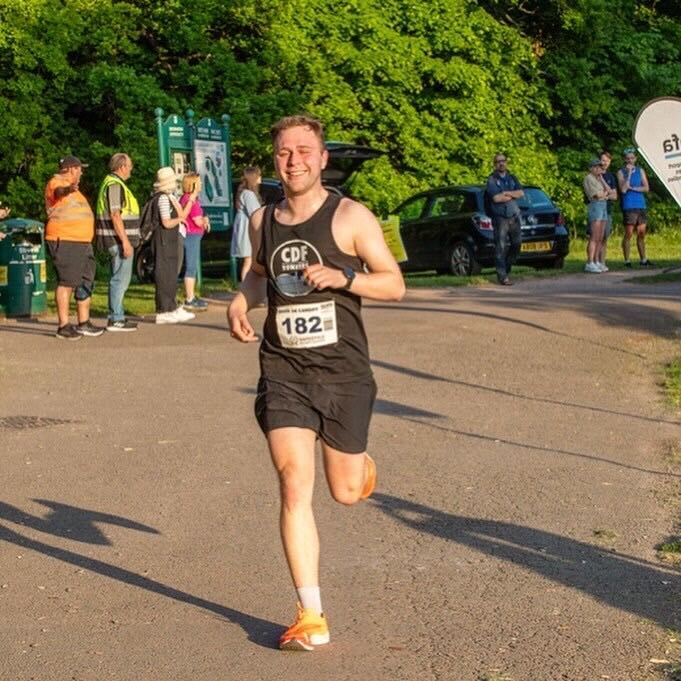 And then, after graduating in 2018, in 2019 I started coming to the odd CDF session. We would do the same 7K loop to the top of the park and round, and every week I remember pushing myself even more. 2019 saw the year of my PBs, where I managed to get to 3:00 for 1K, 18:15 for 5K, 39:50 for 10K and 1:36 for a Half. By the end of the year I had a knee injury from wearing the soles of my shoes down to paper thin for the Half. That's how much I'd been loving it.
After a stint away playing tennis and running elsewhere (traitor), I decided to come back to CDF, after coming back to our training sessions. I had forgotten about the sense of community and how wonderful and welcoming everyone is. After coming to the Monday and Wednesday sessions, I knew it just made sense to come back. A particular shout out to Liz, Rich and of course Michael, who have been so supportive throughout.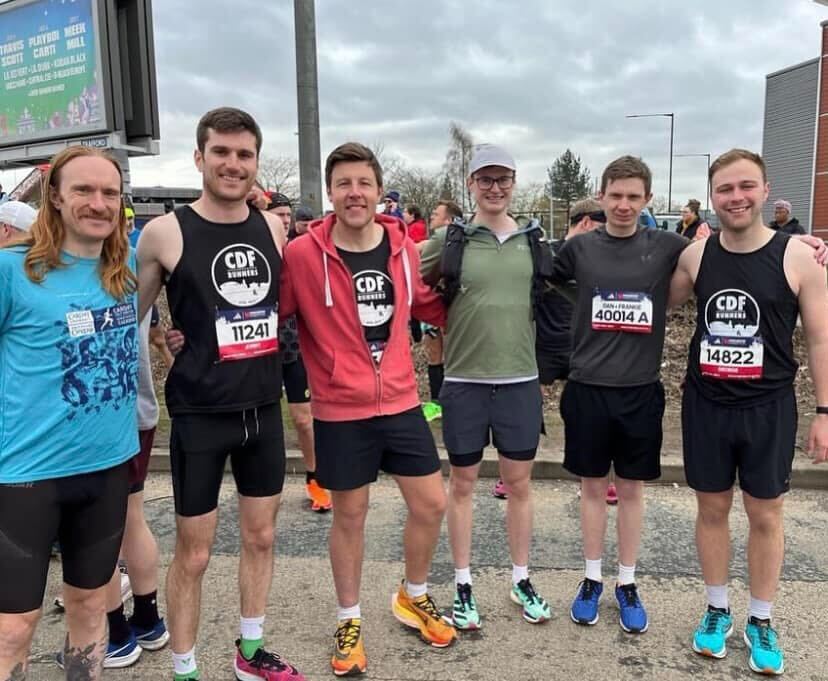 This last year has certainly been the happiest of my running life. My PBs are coming back gradually, and I'm feeling stronger and stronger. Sadly, I lost my childhood dog I used to train with last year, so coming back to CDF felt like the perfect time for me. For the Manchester Marathon this year (my first crack at it), I drew a small tattoo of two dog ears on my wrist for a bit of added motivation. It certainly helped when I was overtaken in the rain as we plodded through Altrincham by a guy juggling the whole way round.
Running's been a strange experience, but it's also something I don't think I could live without.