By Huw Phillips
So New Year's Eve 2016 was when it all started… Knowing how much I hate hills and knowing that the Snowdonia Marathon entry opened at 12:01 on the 1st I put a silly post on the CDF FB group, was anyone one interested? To my surprise, there were some that also had the same thought!
Later that day we had the euphoria of Nos Galan, followed by alcohol and then 12:01, pausing the BBC fireworks to concentrate on the first race of the year, register for the Snowdonia Marathon, traditionally a race that sells out in less than 3hrs… 7minutes later it was done, it was just more alcohol and buyers remorse to follow.
Fast forward to a cold, wet October morning in the shadow of the tallest mountain in Wales (and England) and we were here! 6 intrepid members of CDF Runners about to take on the toughest marathon in the UK. Of course we had all trained extensively to get us to this point, hill training, speed training, long runs and of course some hardcore fell training, its fair to say that we had all done at least one of those sessions!
The expo was really well run, not a large marathon expo but nice and friendly, a trait that follow us for the next few hours, upon collecting my number I was told to pick up my hoody, "what hoody?" I said. "You ordered a hoody when you registered" – it was this fact that further clarified the blood/alcohol level when signing up!
So post team photo we walked the mile or so to the start line, it was possibly one of the most relaxed start lines I've ever experienced, it felt more like a local 10k more than a world-renowned marathon, the weather conditions were perfect, light drizzle and between 7-10c, finally my curse of running marathons during a heatwave was crushed, lets see if I could do the same to the fear of hills.
At approximately 10:30 the silence of the Llys Peris lake was interrupted by a klaxon and then the sound of 3,000 runners heading off to Pen y Pass, the first mile or so was flat, if not even a little downhill and we started climb number one, a steady 3miles up to  the misty hill tops of Pen Y Pass and 376m above sea level. It was an amazing sight, making our way up and seeing all the runners snaked up the road all the way to the top.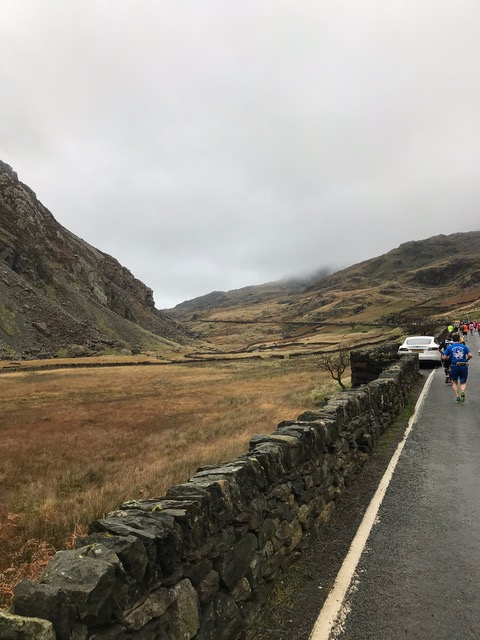 After making our way to the top of Pen Y Pass we faced the prospect of nearly 8 miles downhill which sounded easy until we turned the corner at 5 1/2 miles onto the off road section, conditions had improved slightly and it was no longer raining, in fact for a few minutes the temperature increased… It couldn't happen again could it? The trail section was challenging for those in road shoes, loose and uneven but not impossible, at 8miles we returned to the open road, and it was an open road as cars passed sometimes a little too closely, but the next 5 miles were mostly downhill with slight undulations, until we got to Beddgelert, half way mark. It was a lovely to get there and the crowds were noisy, but it was gone within minutes and all of a sudden the lowest point on the course (64m) was the start of climb number two.
Whilst not as long or as steep as the previous climb it was still 2 1/2 miles up and this time not as interesting, in truth you actually become bored with the stunning views after a few miles. I mean you've seen one amazing lake and mountain combo you've seen them all. That was evident as we cooed at the playing horses in the field near the top but we carried on, the next water station gave us Parma Violets! I mean come on, how good is that? They even had refreshers; best water stations ever! I even contemplated ditching my trusty SIS gels for Love Hearts but the rule of never changing a routine on the day won over!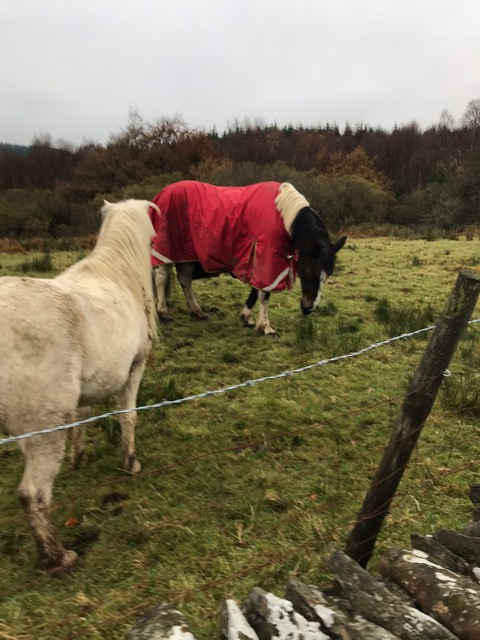 Continue we did, talking to more runners as we passed them, finding out what got them there and why they were running. We had one story that was so dark (and a little scary) that led to us picking up speed and running our fastest mile of the day. In truth we didn't want to run with him anymore, he was a little scary but that's a story for another day, we picked off the 16mile marker, my favourite of any marathon, when you only have single digits left you now its achievable.
Thoughts now led to us making the cut off of 18miles in 4hrs, it was never in doubt, 3 miles downhill in 45mins, we were going to make it and we did, as we came around the corner and saw the 18mile marker there was a brass band playing 'We are the Champions' cannons firing Confetti in the air and cheerleaders creating the names of every runner with their Pom poms… Well, that's how it played out in my head, in truth it was a white sign saying 18miles and some polystyrene cups half full of water but we'd made it.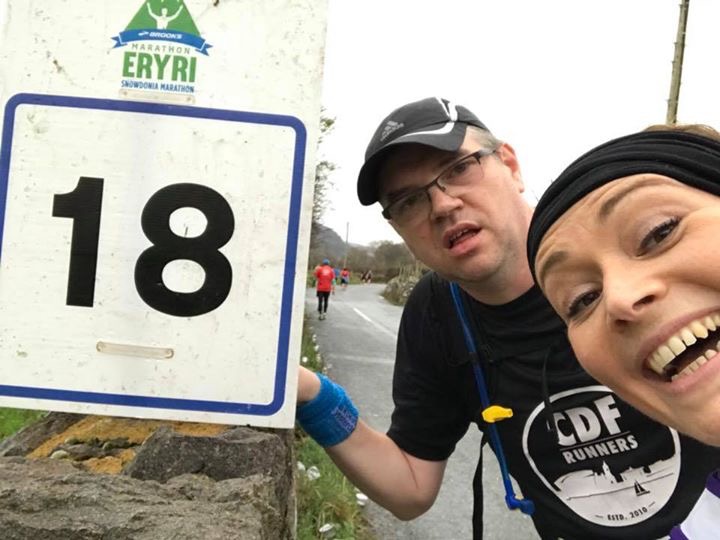 The next 4 miles were full of undulations and conversations. We met a member of the 100 marathon club who was wearing an umbrella on her head, it was her 137th marathon! We picked off members of local running clubs and we were running strong, certainly stronger than many we passed, the zombies were out in force between miles 18-22 it was at 22 we started to climb slightly. This was it. This was the start of the final hill, the hill of legends, the hill of pain and it certainly didn't disappoint.
Between miles 22-24.5 we climbed to 386metres, the highest point on the course, it was cold, it was windy, it was foggy, the view was amazing people said, except we had about 30ft visibility but once we passed the tea stop, yes tea stop, there were runners stopping and having cups of tea and flapjacks, a runner had said to us earlier that Snowdonia had more of an Ultra feel to it and they were right, I don't remember there being a tea stop in London but I digress, we were at the top, it was downhill from here, easy eh?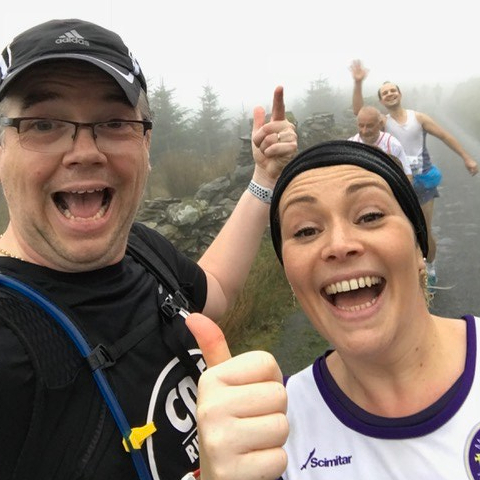 What met us next was beyond my worst nightmares, without a doubt the hardest 2.1miles of my running life, and I've done Ashton Court parkrun! The start of the downhill was on grass paths which at any time would have been difficulty but when 2,800 people had already passed it become quite treacherous. It was muddy, bumpy and slippery and all downhill, mimicking a style last seen in Bambi I somehow managed to stay upright, it ok, I could see tarmac ahead but once again I wasn't prepared for what was ahead, as I stepped foot onto that tarmac it was steep, and I saying really steep, the next mile was basically running on my toes and leaning back at a 45 degree angle, too steep to walk, too steep to run but it soon bottomed out 270m lower down the mountain and you could hear the roar of Llanberis high st, as you entered the first street there were runners calling your name, speed followed and as I turned the corner past the barriers I was sprinting towards the line, the crowd roaring my name, the cheerleaders spelling it out, the same confetti cannons firing as I run past and the announcer calling my name (that may be the only true part) as I burst over the finishing line.
With a slate coaster thrust into my hand, that was it, 5hrs 45mins after starting that was it, 838meters of climbing that was it, and do you know what?
I loved it.
The man who hates hills loved the hilliest marathon in the UK.
Was I going to hurt tomorrow? Am I still going to moan about the slightest hill on a training run, who knows?
All I know is that its done, who knows I may even be back another year, after all as a big deal once said 'Inclines are Winclines'.