How long have you been running? My first parkrun was in May 2012, which is more or less the start of it all
Do you have a favourite race? It has to be Cosmeston Relay for the team and social aspect of it
Do you have a favourite distance to run? I love a mile race for the sheer pain
What's your greatest achievement? I'm really proud that I've been part of the club's development from day 1 of CDF Runners
While I am the guy who puts these blogs on the website, I want to assure everyone that I was actually asked and haven't gone rogue! So here's a bit about me and my running past.
In 2011, I had a moment a lot of us have had when they looked at a photo of themselves and thought "Oh that's… bad". In my case it was a photo from a wedding, and the reality of my miserable post-university office job absolutely smashing packets of biscuits hit home. In order to improve this, I thought getting back into football would be good. Let's just say I won the 'Most Improved Player' two years in a row, and it gives you an idea of just how low my starting point was!
When I eventually realised that there is a lot less at stake when running and no one shouts at you for being shit, I focussed on that instead. I had been to Cardiff parkrun on weekends when I didn't have a match a few times already, and then started to occasionally run there and/or back, and even took the crazy step to run during the week too! I then started looking at races, with two 10ks in my first fairly sporadic year of running and then kicked on to fifteen races in my second including the most of the local 'big' races and smaller ones such as the Murder Mile and a few trail races. This sort of racing calendar set an early template for my future running endeavours.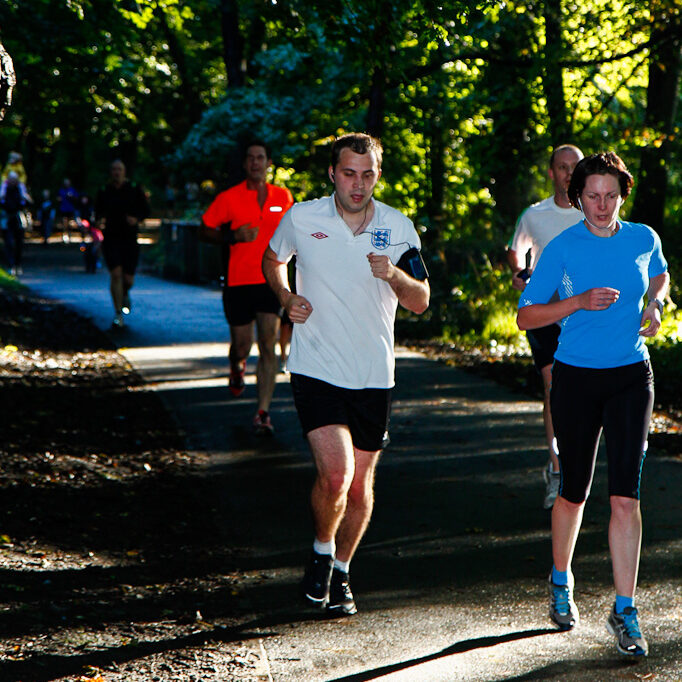 I started to hesitantly look for running clubs in December 2014, despite having the wary attitude that I think most new runners have about them. I remember my very first impression of the then Nike+ Run Club was seeing a photo of everyone at a Christmas meal and thinking "Oh for god's sake, not another team night out". I'd previously played football and cricket and despite not being bad clubs, I had to work really hard to be 'in' and it just never really worked out for me. Also, I was crap at football and cricket. Looking at that photo I was pretty sure that would never be me as I just didn't have the capacity to spend all that energy on trying to fit in again.
Well, as it turned out, it really wasn't that bad! It was very relaxed, people were friendly and chatty and there was no obligation to go every week, or run fast if I didn't want to. It really didn't take long before I felt I was a part of the core of the group, and my social circle, which up to then had been about 3 people outside of work (having lived in Cardiff for 7 years), increased to at least 30 people and more almost every week. It was a social explosion for me, but never forced or faked and no rowdy nights out were needed. We were much more tea and cake than pie and pints, which suited me perfectly. We've been on group running holidays together around Europe and I met my girlfriend, Holly, here after many long runs and adventures together. Of course as it turns out, I'm also now helping to organise the Christmas meals and other social events.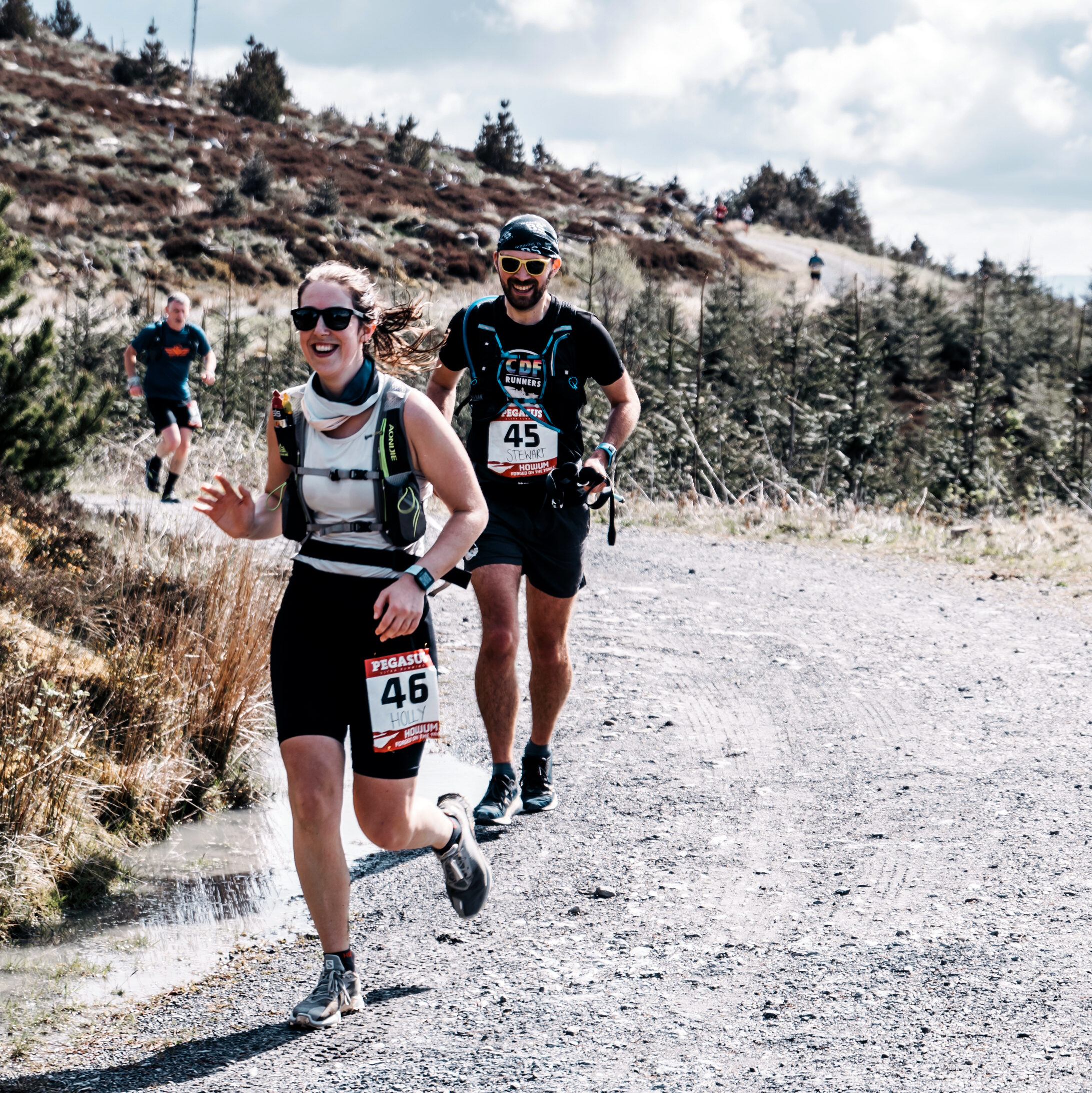 Because I'm definitely the kind of person who just can't help getting involved, I set up our twitter account and designed our first website when the name 'CDF Runners' came around in 2016 to help people to find us and stay up to date. I've answered the emails, set up Instagram, admined the Facebook group, written guidance, helped write the club's ethos, been on the committee since the start, and loads more besides. I'm honestly not saying this to blow my own trumpet, but just to show how much the club means to me and how much I want it to continue and thrive.
I'm not quite sure what type of runner I am these days. I love racing, hitting a new PB of 23 races in a year in 2022, but it's hard to pin down a favourite distance or type of race. This year has already included fells, trails, canicross, a road 5k and a couple of mile races with some very silly ultras to come.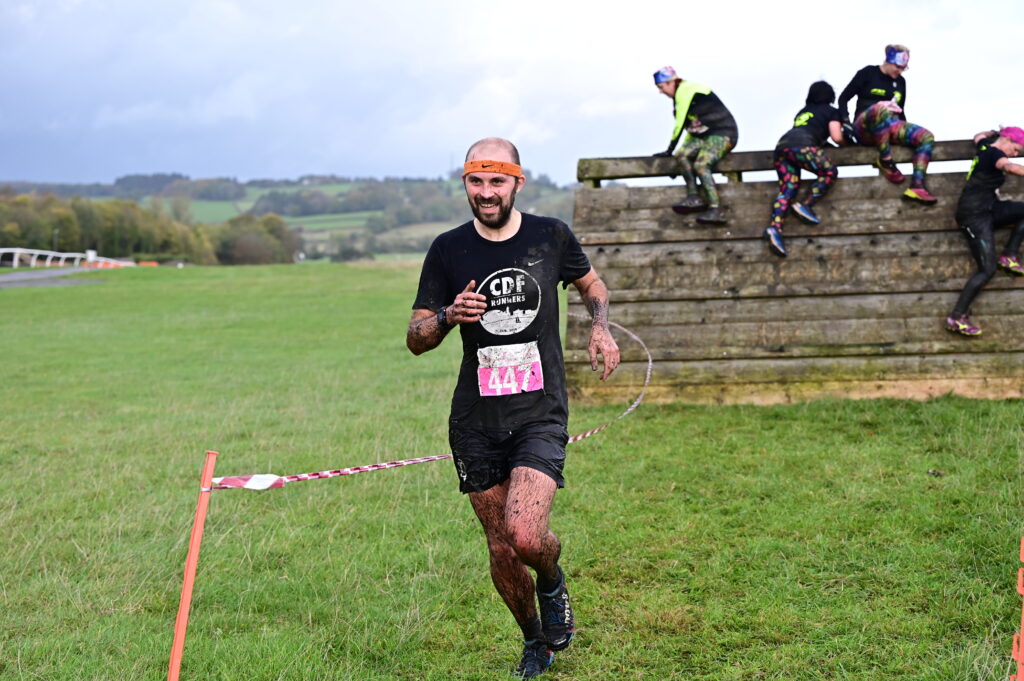 A particular memory that sticks out is running the Chepstow Steeplechase obstacle race. Holly and I hit the front of Wave 1 straight away having determined that everyone else looked like they were there to enjoy it and have a bit of fun. I threw myself at the climbs and crawls and found myself in the ludicrous position of leading from the start to cross the finish line first, after hauling myself through genuinely chest deep mud, twice. Convinced I had actually won an event I waited 10 hours for the official results to come through, only to discover that all the good runners went in Wave 2 and I had finished 9th. What made it worse was that Holly won the female race…
I've been asked about my favourite races a few times recently and my answer is that I like the stupid races. The ones where someone says run up that mountain and back, or find these 16 checkpoints, or through a load of mud. I'm really up for anything, and I'm passionate about supporting small race companies and clubs where I know my entry money isn't being spent on t-shirts and Facebook advertising. Of course this has had the unfortunate effect of when I recommend races to people they will assume the race is too crazy for them and run in the opposite direction!
The club has genuinely changed my life and I'll be forever grateful to those that welcomed me and do my best to return that kindness. I'll keep on looking for new races and encouraging people to run cross-country, or up a mountain, or to push themselves in a mile race, and I'll keep on supporting this fine club to give all those new runners the opportunities that I had.