By Sam Blaxland
If there's something I've learnt from a year of attending CDF sessions, it's that this club doesn't do things by halves. Whether it's Cosmeston Relays, parkruns, Pride events, or travelling all over the country to watch and cheer on club-mates, CDF is surely cementing its reputation as a big and conspicuously noisy gang of runners and friends. Of course, all rules have their exceptions!
And so it was last weekend, on a very autumnal Saturday, when a grand total of four CDF members – me, Debbie, Stewart and Trevor – turned up for the Gwent League Cardiff Cross Challenge at Llandaff Fields! 
In all fairness, I had only decided to go on a whim, because it's a stone's throw from my house, and I wasn't injured after Cardiff Half. I wasn't particularly relishing the idea of running nearly 10k as part of an event that I worried might bring back memories of unpleasant school PE lessons. 
Indeed, on arrival, the feeling of being a slightly disorientated school-boy was overwhelming, with a lot of people milling around looking like they knew what they were doing, when I didn't know where to go, what to say, or how to organise myself. I was handed an envelope ("what's this for?") at the registration tent and, having thought I'd already paid, was told to hand over four quid ("I don't carry cash!"). I didn't quite understand that, in normal circumstances with a big club team, all the finisher chips are put into one envelope so that the results can be collated.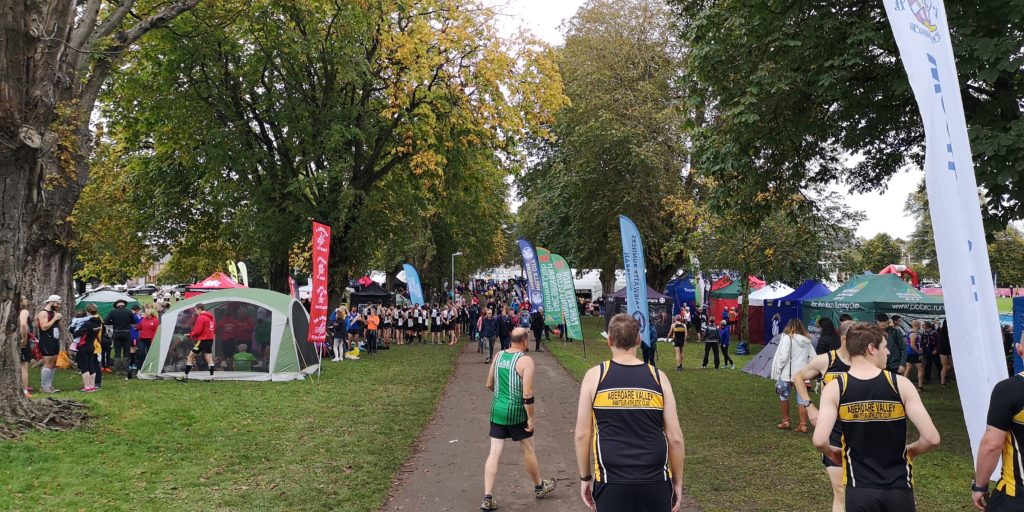 Naturally, all of this became clear very quickly, but it's a reminder that new people at new events sometimes have no idea what is going on and can feel a bit intimidated as a result. A friendly or welcoming face, and a polite explanation, goes a long way – an attitude that CDF excel at I should add!
Anyway, the course: if anyone knows Cardiff parkrun's 'alternative to the alternative' route, then this broadly follows that. It traces the perimeter of Llandaff fields, but to make up some extra distance, it cuts into the centre of the fields with a few hairpins and twists. There's a short but sharp hill near the beginning, which inevitably leads to a downhill section, but the rest is pretty flat. There was even a log to jump over. I really enjoyed the course, and found the winding and the turns (and the log jump) fun; it was disorientating enough to take my mind off the fact that, for the senior men at least, you had to do three laps of all of this.  
There were plenty of Senior Women running, including our very own Debbie, who put in a sterling performance having already done the parkrun that morning. What a hero! Once the male under 20s had finished it was the turn of Stewart, Trevor and I to give it a go.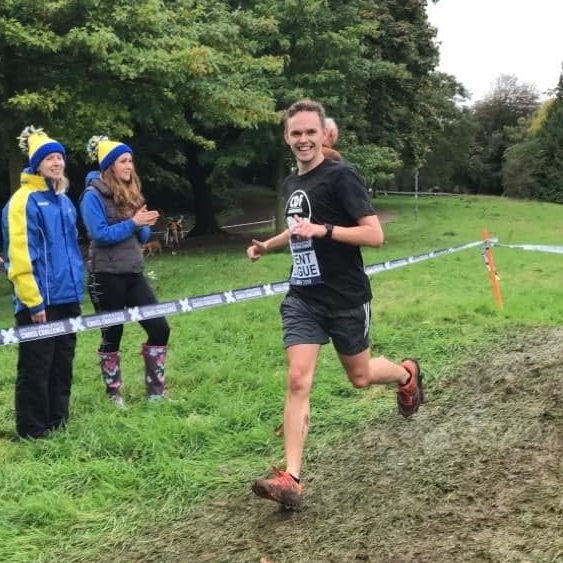 By the time we started, a couple of sections had turned into that infamous no-man's-land bog that can sometimes be associated with cross country. That's actually an exaggeration, but it certainly was properly muddy and difficult to pick up any pace over. Thankfully, most sections were completely manageable, and nothing a pair of trail shoes couldn't handle. 
The field was competitive and I spent a lot of the first lap fighting for space, but once it opened out a bit – and once the bulk of runners had surged ahead – it all got a lot easier. At parkrun and various races, I'm not used to being in the bottom third, but that's a testament to how good the standard was here. I finished 366 out of, perhaps, 550 runners, and just avoided being lapped by the winner. Some of the front-runners were truly amazing.  
Thanks are also due to Mike who was on hand to provide support and good-natured coaching. As I was about to begin my second lap, someone I knew shouted a word of encouragement. I waved a quick thanks for this, and immediately heard, from Mike in the distance, 'Stop smiling Sam! You're not trying hard enough if you're smiling!!'. Naturally, this only made me smile more! 
For a run I entered on a whim, I was elated after finishing. This was a varied course, with a good atmosphere that offered something different to do on a Saturday afternoon.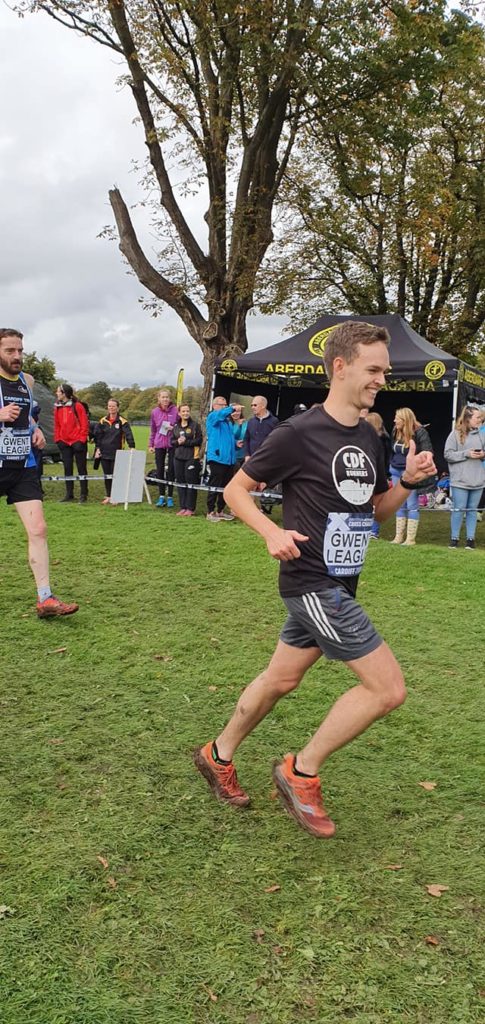 So, a word of encouragement for all CDFers thinking about taking part in up-coming cross country runs this season, or this same event next year: definitely do it.
The standard is very high at the top end, but the ability range is broad. It's also cheap as chips – and the effort justifies chips, or a pint if you're like me. It might be a bit confusing when you first arrive, but most events are regardless, and anyway, some of us now know how it works! For fans of the fluffy four-legged-friends there was also a range of lovely dogs to spot and say hi to in the crowds.

If you haven't done cross country since school (like me), then that very particular smell of freshly churned up earth will certainly prove nostalgic. And even though it's hard work, I firmly believe that the concentration required to pick your way through muddy tracks makes the time fly by. 
And in future events we need to be there in numbers large enough to make our presence felt – and so that the announcers start saying our club name correctly…
---
Cross Country is open to CDF members, with fixtures on the following dates:
9 November 2019 – Pembrey Country Park, Llanelli
7 December 2019 – Blaise Castle, Bristol
8 February 2020 – Chepstow Racecourse
1 March 2020 – Singleton Park, Swansea
Please check out the events in the Affiliated Members Facebook group, or email hello@cdfrunners.co.uk to find out more.